Welcome to the academic homepage of Dr. Wolf-Georg Zaddach!
This pages shall give you a brief overview about my academic work. Feel free to contact me via wolf-georg.zaddach [at] t-online.de
If you're interested in my work as a musician and composer, please have a look at my musician homepage!
NEWS
/ July
I'm looking forward to present on artistic music research at the international IASPM D-A-CH/GfPM conference in Vienna from Oct 20-22,2022. The title of my presentation is: 'Epistemic inertia', 'epistemic injustice' and 'epistemic mosaics': Artistic research as a new paradigm and its potential for popular music studies
/ May 2022
I'm grateful for the invitation by the HfMT Hamburg to talk about artistic research as a guest speaker on May 10. I'm talking about "RE:Search. Current debates, challenges and perspectives of Artistic Music Research"
/ Apr 2022
I'm looking forward to 2 amazing events in Austria in June:
1. International conference: "Jazz Re:Search in 21st-Century Academia and Beyond" at KUG Graz
2. International Workshop "Doing Thinking in Jazz: The Infinite Art of Preparing for Improvisation" at Gustav Mahler Privatuniversität Klagenfurt + Jam Music Lab Unviersität Wien.
At both, I will be talking and performing in the context of artistic research. Especially the event in Klagenfurt is very exciting, since it will be an amazing international group of artist-researchers followed by a publication.
Thanks to Michael Kahr for making it all happen!
/ Febr 2022
I'm happy to announce a new publication about AI and improvisation on the cross-roads of practice-based and MIR research. The research is a team effort wit Dr. Klaus Frieler (Max-Planck-Institute for Empirical Aesthetics, Frankfurt/Main), the double-blind peer-reviewed article can be found here: http://doi.org/10.5334/tismir.87
Also, the new DFG-network Artistic Music Research met for the first time online. Soon there will be updates with a new homepage, etc.
/ Dec 2021
2022 will be, again, very productive in terms of artistic research. Besides the DFG-funded research network and my course leadership for the practice-bsed MA at BIMM Berlin, I will publish 2 more articles:
about artistic research and popular music in the special issue on practice-based research of the international peer-reviewed journal of the International Association for the Study of Popular Music, IASPM@journal, release date late 2022/early 2023.
about artistic reseach as methodology for popular music studies, with Michael Kahr, as part of the extensive Handbook of Popular Music Methodologies (Intellect), ed. by Mike Dines, Fiorenzo Palermo and Shara Rambarran, release date late 2022, early 2023.
/ Dec 2021
I'm very happy to announce that I received a funding from the German Research Foundation (DFG) in order to build an expert network. From 2022 until 2025 we will work on Artistic Music Research and hope to contribute massively to the debate and implementation of artistic research into music universities and music studies.
On the same subject, I was invited as a guest speaker to talk about artistic music research at the research colloquium of the University Potsdam on Dec 3.
/ Nov 2021
Happy to announce that a transcript of a roundtable discussion on music, climate change and sustainability is available now as open access (in German).
/ Oct 2021
My latest article on artistic research and popular music in German is out now as open access!
/ Sept 2021
I'm happy to announce that I took over the Course Leadership for the new MA program "Popular Music and Practice" at BIMM Berlin. I also lead the modules on "Practice & Research" leading into the "Major Project"
/ May 2021
I started a new temporary post-doc position at the Institute of Art, Music and Dissemination at the Leuphana University Lüneburg. Besides teaching and supporting Prof. Dr. Michael Ahlers I will work mainly on Artistic Research in Jazz and Popular Music.
/ March 2021
I did two interviews about music culture and sustainability / climate crisis, one for the journalist Dominik Schrader (you can find the German article here), and one for the German radio station MDR Kultur.
/ February 2021
I'm happy to announce that I'll be part of an expert group for a special isssue of the journal Popular Music History on "Narrating Popular Music History of the GDR".
/ February 2021
I'll be presenting about climate crisis and popular music at the 4th IASPM D-A-CH Conference @ Paderborn University, 11. – 13. March 2021, online
/February 2021
I got an "innovation grant" from the Faculty of Musicology, Music pedagogy and Music Theory at the University of Music for a lecturer series on digital music cultures: "'Sounding Future – Future (Is) Sound': Digitale Transformation der Musikkultur. Aktuelle Debatten und Perspektiven"
[October 2020]
The event of the Goethe Institute Caracas, Venzuela, originally planned for April 2020, can finally happen as part of the Metal en Casa-Program: 45min lecture about heavy metal in Germany followed by a Q&A as an online event.
[September 2020]
I took part at the annual conference of the Gesellschaft für Popularmusikforschung and presented about Artistic Research and its potentials for popular music studies.
[July 2020]
I was invited to a round table discussion and presentation about heavy metal in the GDR by the Stiftung Ettersberg at the memorial Andreassstraße in Erfurt Germany, a former Stasi prison, see: https://www.youtube.com/watch?v=9MemxiniQ_A
The German TV television MDR took the chance to interview me briefly and created an interesting short documentary: https://www.ardmediathek.de/mdr/video/mdr-thueringen-journal/zeitreise-in-die-heavy-metal-szene-der-ddr/mdr-thueringen/Y3JpZDovL21kci5kZS9iZWl0cmFnL2Ntcy80YjFlZWUwZi1kNzkyLTQxY2UtYTFkOC1iNjQwOWM3ZDMyNGM/
[February 2020]
The Germanbroadcasting MDR interviewed me about heavy metal in the GDR. In 2019, I gave several interviews to share my research with the public, for a full list see here.
[February 2020]
The Goethe-Institut Caracas, Venezuela invited me to a lecture and workshop about heavy metal in Germany and heavy metal as academic topic for April 25/26. UPDATE: The event had been canceled due to the Corona-Pandemic. 

[Oct 2019]
I will visit Vienna for the "1st International Artistic Research in Jazz" Symposium and talk about research issues and propose a collaborative approach. Here, we officially founded the international Artistic Jazz Research Network with colleagues from Norway, Serbia, Austria, Australia, USA, among others.
[Sept 2019]
I wrote an article about current issues in music industry: change of reception, working conditions of musicians and future challenges. It is published in the Journal of Cultural Management 2019/1.
[July 2019]
Past month, I presented at the International Metal Studies conference in France. At the end of month I will publish an essay on Music economy and an article about heavy metal in the GDR.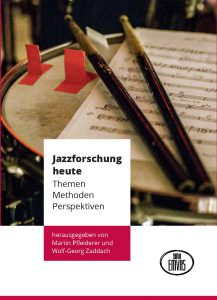 [May 2019]
New Publication! Following our conference on Jazz Research we compiled a book, with an introduction by Martin Pfleiderer and me and a chapter about practice-based research!
Jazzforschung heute. Themen, Methoden, Perspektiven, Berlin: Edition EMVAS 2019, mit Martin Pfleiderer.
Martin Pfleiderer und Wolf-Georg Zaddach: Jazzforschung heute. Eine Einführung  |  7-17
Wolf-Georg Zaddach: »Groove is the essence of my music«. Wayne Krantz' guitar playing from a practice-based perspective  |  133-146
[March 2019]
2-pages-Interview about my research @RockHard magazine, 3/2019!
[Oct 2018]
Radio interview about my book at Deutschlandfunk
[Aug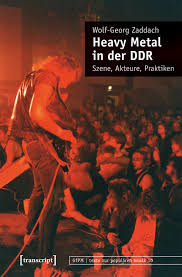 ust 2018]
New Publication: Heavy Metal in der DDR, coming out September 2018!
[March 2018]
New conference and workshop appearances in 2018: Siegen @ Hard Wired 6, for a 3Sat-report see here, Stendal about youth cultures in the GDR, Berlin/Macromedia about Music Business Studies.
[November 2017]
New book about jazz analysis and theory as Co-Editor. I provided chapters analyzing solos by Michael Brecker, Chris Potter, and Branford Marsalis! The book is available as open-access publication / free download.
[February, 26th 2017]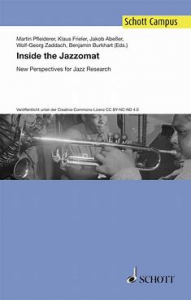 Dissertation about the metal scene in 1980s East Germany officially submitted!
Also, new conferences scheduled: Besides Olomouc/Czech Republic in March, I will present my research in Budapest/Hungary in May and Helsinki/Finland in June!
[January 17]
I got an invitation to present at the "Popular music in communist and post-communist Europe: state of research, perspectives" at the Palacký University Olomouc, Czech Republic, March 28th – 29th. I'm really happy about that and looking forward to present about my research on metal in the GDR.
[January 17]
Here's an interview about my research on metal in the GDR (in German), by the newspaper Ostthüringer Zeitung. I did that a while ago and just found online. Many thanks to Tatjana Böhme-Mehner!
[October 16]
Autumn is going to be busy again! Three guest lectures (Hochschule für Musik Weimar, University of Southern Denmark Odense, Stiftung Ettersberg) and two conferences (Surrey/UK and Hamburg) – See below!
[April 16]
I'm delighted to announce that I'll be providing a chapter about "Heavy metal in Germany" for the upcoming Bloomsbury Encyclopedia of Popular Music of the World, vol. VIII-XIII, edited by John Sheperd and David Horn.
[March 16]
This year is going to be interesting. Besides finishing my Ph.D. in late summer /early autumn, I'm going to present at a lot of interesting conferences this year, check the presentation section below!
[Jan 16] 
New publications, among them two international and double-blind-peer-reviewed, are going to be released this year, check the publication section!
[July 15]
Honored to be consultant and guest lecturer for an international music business week by the Initiative Musik and the National Department of Foreign Affairs (Auswärtige Amt)
[June 15]
I recently provided some expertise for an article about the concept and image of rockbands, which you can find here (in German!)
[march 15]
Here you can read an interview with me about protest music (in German!): Akruetzel_Zaddach