Welcome to the academic homepage of Dr. Wolf-Georg Zaddach!
This pages shall give you a brief overview about my academic work. Feel free to contact me via wolf-georg.zaddach [at] t-online.de
If you're interested in my work as a musician and composer, please see my musician's page here!
NEWS
[Oct 2019] I will visit Vienna for the "1st International Artistic Research in Jazz" Symposium and talk about research issues and propose a collaborative approach.
[Sept 2019] I wrote an article about current issues in music industry: change of reception, working conditions of musicians and future challenges. It is published in the Journal of Cultural Management 2019/1.
[July 2019] Past month, I presented at the International Metal Studies conference in France. At the end of month I will publish an essay on Music economy and an article about heavy metal in the GDR.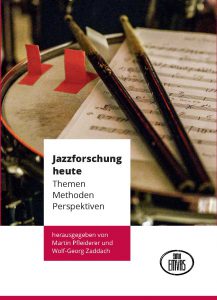 [May 2019] New Publication! Following our conference on Jazz Research we compiled a book, with an introduction by Martin Pfleiderer and me and a chapter about practice-based research!
Jazzforschung heute. Themen, Methoden, Perspektiven, Berlin: Edition EMVAS 2019, mit Martin Pfleiderer.
Martin Pfleiderer und Wolf-Georg Zaddach: Jazzforschung heute. Eine Einführung  |  7-17
Wolf-Georg Zaddach: »Groove is the essence of my music«. Wayne Krantz' guitar playing from a practice-based perspective  |  133-146
[March 2019] 2 pages Interview with me about my research @RockHard magazine, 3/2019
[Oct 2018] Radio interview about my book at Deutschlandfunk
[Aug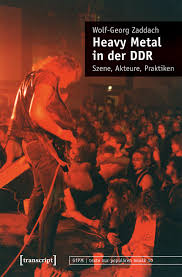 ust 2018] New Publication: Heavy Metal in der DDR, coming out September 2018!
[March 2018] New conference and workshop appearances in 2018: Siegen @ Hard Wired 6, for a 3Sat-report see here, Stendal about youth cultures in the GDR, Berlin/Macromedia about Music Business Studies.
[November 2017] New book about jazz analysis and theory as Co-Editor. I provided chapters analyzing solos by Michael Brecker, Chris Potter, and Branford Marsalis! The book is available as open-access publication / free download.
[February, 26th 2017]   Dissertation about the metal scene in 1980s East Germany officially submitted!
Also, new conferences scheduled: Besides Olomouc/Czech Republic in March, I will present my research in Budapest/Hungary in May and Helsinki/Finland in June!
[January 17]   I got an invitation to present at the "Popular music in communist and post-communist Europe: state of research, perspectives" at the Palacký University Olomouc, Czech Republic, March 28th – 29th. I'm really happy about that and looking forward to present about my research on metal in the GDR.
[January 17] Here's an interview about my research on metal in the GDR (in German), by the newspaper Ostthüringer Zeitung. I did that a while ago and just found online. Many thanks to Tatjana Böhme-Mehner!
[October 16]    Autumn is going to be busy again! Three guest lectures (Hochschule für Musik Weimar, University of Southern Denmark Odense, Stiftung Ettersberg) and two conferences (Surrey/UK and Hamburg) – See below!
[April 16]     I'm delighted to announce that I'll be providing a chapter about "Heavy metal in Germany" for the upcoming Bloomsbury Encyclopedia of Popular Music of the World, vol. VIII-XIII, edited by John Sheperd and David Horn.
[March 16]     This year is going to be interesting. Besides finishing my Ph.D. in late summer /early autumn, I'm going to present at a lot of interesting conferences this year, check the presentation section below!
[Jan 16]   New publications, among them two international and double-blind-peer-reviewed, are going to be released this year, check the publication section!
[July 15]   Honored to be consultant and guest lecturer for an international music business week by the Initiative Musik and the National Department of Foreign Affairs (Auswärtige Amt)
[June 15]   I recently provided some expertise for an article about the concept and image of rockbands, which you can find here (in German!)
[march 15]   Here you can read an interview with me about protest music (in German!): Akruetzel_Zaddach